ai look in Brooklyn!
2012.09.17 Monday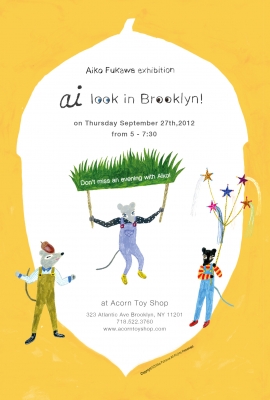 AIKO FUKAWA EXHIBITION
" ai look in Brooklyn! "
I'll be holding a one-day exhibition at the Acorn Toy Shop in Brooklyn NY.
on Thursday September 27th,2012 from 5 - 7:30
I'll be selling my original stationery goods and original paintings.
I look forward to see you at the Acorn and don't miss an evening with AIKO!
Acorn Toy Shop
323 Atlantic Ave Brooklyn, NY 11201
718.522.3760
9/27(木)にニューヨークのブルックリンにある
one day exhibitionを開催します!!
aiの紙グッズの他、小さなイラスト作品が並びます。
17時〜19時半の間はお菓子と飲み物も楽しみながら
お会いできたら嬉しいです。
はじめての事なのでドキドキしすぎてもう大変!
あと1週間〜!!!